When you're a busy woman striving to make happy and healthy fit into a life constantly on the go, your nourishment needs to be quick and energizing.
Don't settle for the same old spread on your rice cakes. All of these options are a breeze to whip up for you and your family on even the craziest of days.
My staple coffee shop snack
I'm easily distracted at home by chores and two little ones pulling at my pant legs. To stay focused, I've become one of the "regs" at the local coffee shop where I often work and write fresh FfL content.
Since rice cakes are easy to pack and fuel me for hours, they're my go-to coffee shop meal or snack. You can ask the barista… over the past few months, I've become quite the rice cake connoisseur with a variety of toppings on any given day.
Because whole grain rice cakes are tasty, healthy and a great snack to keep on hand, I wanted to share some tasty ways to top them.
10 Ways To Make Rice Cakes Taste Delicious
Goat Cheese and Strawberry Balsamic
This incredibly sweet and savory combo is sure to impress your entire family. It's simple to throw together but tastes like it's from a 5-star restaurant.
How to Make it
Top rice cakes with spreadable goat cheese, which often comes in a log, add sliced strawberries and drizzle a little balsamic.
Side Note
If you've never been to an Olive Oil and Balsamic Taproom, I highly recommend it. You'll get the highest quality evoo and balsamic vinegars. The best part? You get to taste test all of them! Do a quick google search, find one locally and make an afternoon of it!
Hummus and Veggies
I love cleaning out the fridge and topping rice cakes with leftover veggies from earlier in the week. I've used everything from raw cucumbers, carrots and tomatoes to grilled zucchini. That's the beauty of rice cakes and hummus… almost ANY veggie compliments the combo!
How to Make It
Top your rice cake with hummus and whatever veggies, raw or cooked, you have in your fridge.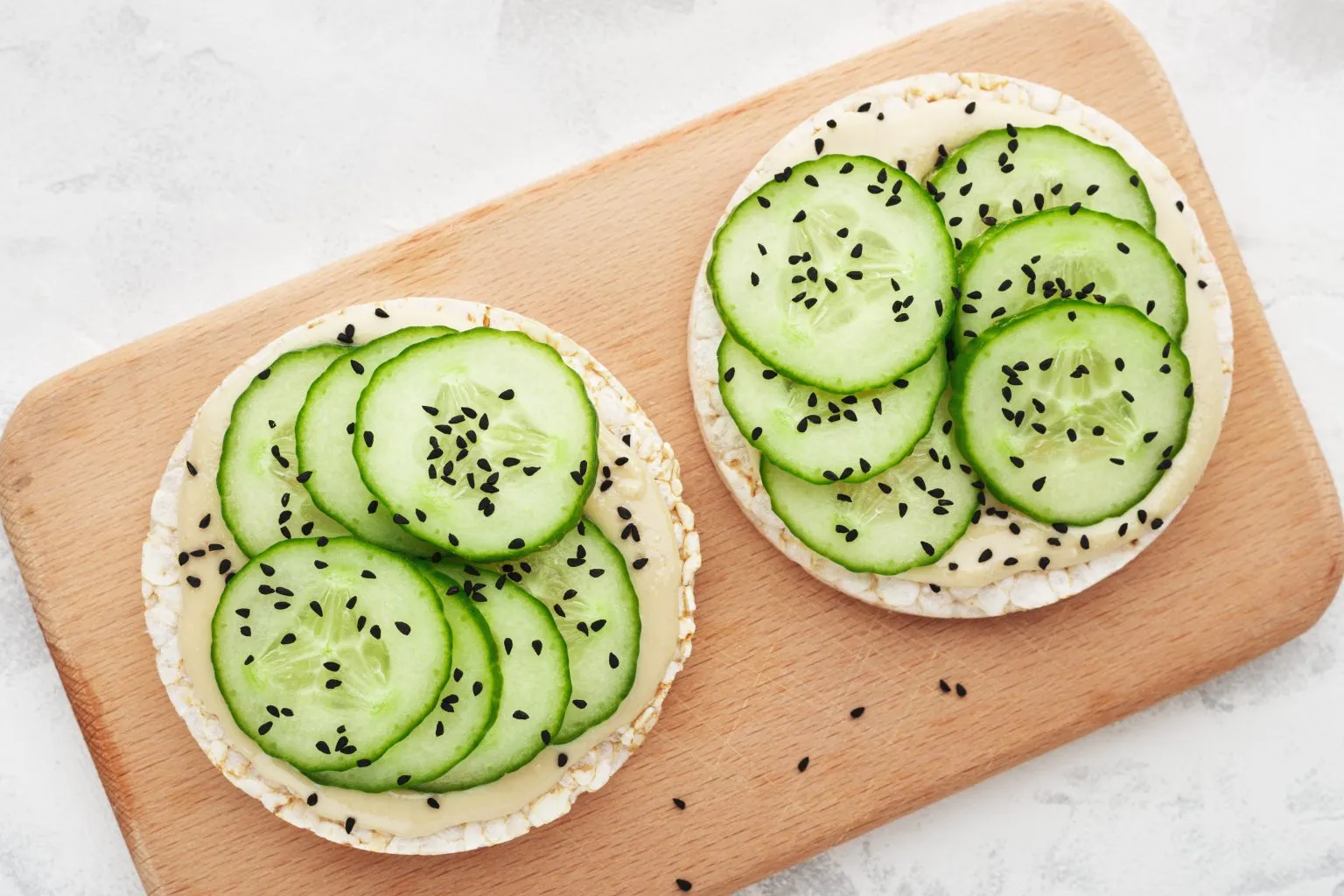 Side Note
Something to keep in mind is that most store bought brands of hummus are FILLED with additives and unnecessary ingredients. Unless you're in a pinch, try one of these hummus recipes… making it is MUCH easier than you think. Hummus is also freezer-friendly so I typically freeze half the batch in a mason jar for another week.
Honey Blueberry PB & J's
Think PB & Jelly sandwich, WITHOUT all the added sugars! This is such a simple snack that doesn't require much attention whatsoever. It has the flavor of your favorite childhood PB and J, yet is something you can feel good about eating and serving to your family!
How to Make It
Mash a handful of fresh, or thawed, blueberries in a small bowl with 1/2 teaspoon of honey. Coat your rice cakes with a small amount of your favorite nut butter and top with the mashed blueberry mix!
Banana and Nut Butter
How to Make It
Top rice cakes with your favorite nut butter, bananas and pepitas (pumpkin seeds).
Toasted Cinnamon Crunch
When you were a kid, did you ever eat the name brand cereal, Cinnamon Toast Crunch? That's exactly what this tastes like without all the funky fake ingredients… absolutely DREAMY!
How to Make It
Top rice cakes with almond butter, a drizzle of honey, pepitas (pumpkin seeds), cinnamon and apple slices.
Avocado "Toast"
We often whip up this avocado spread on a busy morning and put it on toast or rice cakes for tasty breakfast. It also makes an incredible mid-day, or after school, snack that you and your family will love.
How to Make It
Inspired by avocado toast recipe, top rice cakes with our simple avocado spread and sprinkle sesame seeds on top. If you want to take it a step further, top it with sliced cucumbers or tomatoes.
If you're really tight on time, slice an avocado rather than making the spread and top it with crushed red pepper and sesame seeds.
Side Note
Much like hummus, most store bought brands of guacamole and avocado spread are FILLED with additives and unnecessary ingredients. Unless you're in a pinch, try making your own. It can be done in 60 seconds flat and tastes much fresher!
Peaches and Cream
This is another sweet and savory combo that tastes like a dessert in snack form!
How to Make It
Top rice cakes with low-fat ricotta, goat or cottage cheese, fresh sliced peaches and a drizzle of balsamic OR honey.
Berries and Chocolate Ganache
This snack doubles as dessert, is absolutely delicious and uses a secret ingredient. It's a bit unexpected, but this truly is an all-around winner when it comes to sweet versatility. Let us just say, you'll be HOOKED!
Mediterranean Munchies
This is another one you can get a little creative with! Make one, both or use a combination of the two…
How to Make It
Pesto, Cucumber and Feta: Top rice cakes with a tiny bit of pesto, cucumber and feta.
Pesto, Tomato and Basil: Top rice cakes with a tiny bit of pesto, a slice of tomato and a fresh basil leaf.
Smoked Salmon and Avocado Rice Cakes (Lox Rice Cakes)
If you love the combination of protein-rich salmon, creamy avocado and savory brown rice, these easy, gluten-free rice cakes are for you. Not only will they satisfy your hunger, the ingredients are chock-full of health benefits including omega-3 fatty acids, vitamins, healthy fats and fiber.
Baked Rice Cake Recipes
Rice cakes are a great alternative to classic nachos that traditionally use fried tortilla chips. Grab the recipe HERE.
Personal Snack Pizzas
These are a great snack for kids to have fun making. Use your favorite FfL friendly cheese, and they can even toss on a pepperoni or two!
What to look for when welcoming rice cakes into your pantry
When it comes to rice cakes, it's simple… There should only be two ingredients listed
whole grain rice or quinoa
salt
Our absolute favorite rice cake is a lightly salted, 100% whole grain brown rice cake from the brand Lundberg. Their rice cakes contain quality ingredients and they even have thin stackers rice cakes available, which are a thinner version of a traditional rice cake. Thin stackers work GREAT for rice cake nachos and have become our go-to when making these recipes.
Get Creative
There are a million different ways you can top rice cakes, these are just a few of our favorites. Get creative, use your leftovers and concoct something decidedly delicious. If you want more ideas, simply do a google search.
Whole grain rice cakes are tasty, healthy and can be topped with such a diverse spread of ingredients, making them a great snack to keep on hand!
Let's snack the smart + delicious way — together!
Do You Struggle to Plan, Choose and Prepare Nutritious Snacks?
We created this guide to help you snack smart the fast (+ delicious) way! Whether a mid-morning food craving strikes or your kids are scavenging the cupboards after school, preparing delicious and nutritious snacks shouldn't have to be complicated.
Get Started Now!